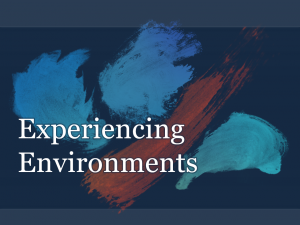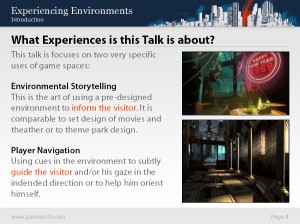 For the last couple of weeks I've been collecting material and planning my upcoming lecture at the International Film School in Cologne.
Today I'm finally sitting down to really flesh it out and as a little teaser I've uploaded the opening image and an introductory slide. As you can see there the lecture is called Experiencing Environments.
It is about level design focuses on the topics of environmental storytelling and player navigation. The latter will mostly be information from my No More Wrong Turns article but the former is mostly new material compiled for this lecture.
Of course, once everything is done, the lecture is held and any possible feedback is incorporated I will upload it here to share with the greater gaming community.
In the meantime enjoy the previews and if you do have any additional material or interesting links on the topic, feel free to send them my way – there's always room for more!