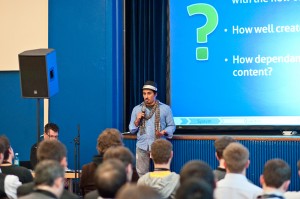 Just got back from the Browsergames Forum 2010 and it seems like the presentation from Volker and me was a success:
We've had a packed room, even though it was too hard to find and not really in the schedule. The talk itself went really good, even though the handheld microphone was a bit of a bother. And then after the talk we got lot of positive feedback from the audience, through twitter and all through the rest of the forum. I've even had someone compliment me on the talk in the men's room.
Right on.
As for the talk: I'll be putting the slides up shortly. We'll have to adjust a few things first. Watch this space for the download coming sometime in the next few days.