Another conference week so we're again a bit light on the links.
Image: Minecraft art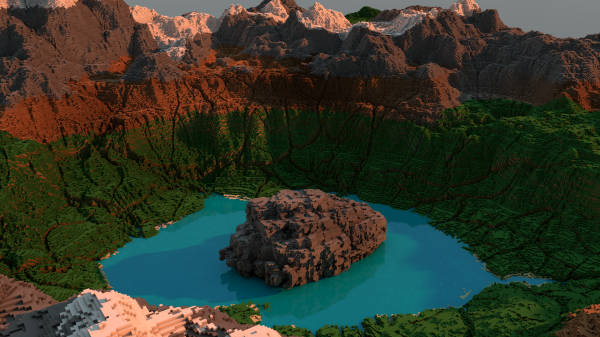 Not sure where exactly this is from and if it's really built with minecraft (I doubt it) but it's a pretty cool picture.
Video: Go Right

A neat little video that is a sort of celebration of the side-scrolling plattformer. I saw a kind of positive message in there based on the game mechanics of those games – regardless how often you get hit, you can always go right 🙂
Video: Destructoid A MAZE Indie Connect Impressions

A couple of short clips and impressions from the awesome and very first A MAZE Indie Connect festival I had the pleasure of attending. The festival and attached exhibition were a lot of fun and if you watch closely you should be able to spot me in the video above. Unfortunately I couldn't find any further Destructoid coverage so far.
Game: Proteus
The winner of this years most amazing game trophy is Protues, an exploratory journey over a procedurally generated island. It is not unlike Dear Esther, but a lot less narrative. If you have no aversion to pixely/voxely art then give this game a try. They've gotten the IndieCade 2011 award for their really exceptional procedural music.
Link: Ron Paul Game Kickstarter
I'm a big big fan of Kickstarter and crowdfunding in general. I do believe what it has done for creative projects has an enormous capability to provide real long-term change toward the better. But I've been thinking (and talking) a lot about this lately and I do think there's some hurdles along the way. And bad projects like this one linked to really are where Kickstarter can stumble. Simply using a popular topic to piggyback a bad idea on is bound to dissapoint the backers. Combine that with deliberate fraud and you have a sure recipe for disaster…